Janet Dalton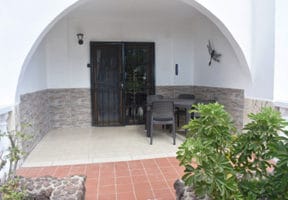 Excellent Service
Hi Damian,
I just wanted to write a thank you and review, that you may wish to share with any prospective customers, describing the excellent service, you and your staff provided to us, during the process of buying our apartment in Tenerife.
We had been considering buying a property in Tenetife for some years and dealt with various estate agents, on the island, during that time but immediately felt confident in the professionalism and integrity of Tenerife Property Shop.
From day one, when showing us properties, you, Damian and your team, were very pleasant, knowledgeable about the apartments, the area and obligations required,  in buying a property abroad.
There was no hard sell. It was all factual information, offering help and advice and always able to answer any questions we had. If, on the rare occasions, you did not know the answer, you always made it your business, to find the answer and kept to your word and responding immediately.
Even when we were back in the UK, nothing was too much trouble. You always went above and beyond, to provide us with the information and advice we wanted.
Prior to us finding our property, we had already decided, we would only purchase a property via Tenerife Property Shop, as it was a big purchase , for us , in a foreign country , where we didn't speak the language and we felt very confident in Damian and his team's ability to guide us through the  buying process and as Tenerife Property Shop has been established for more than 30 years, it gave us that valuable reassurance.
Tenerife Property Shop made our experience of purchasing a property in Tenerife an enjoyable , stress free experience. As already stated, they certainly did go above and beyond what you would expect from an estate agents!
Apart from being constantly in touch via, phone and e-mail, they furnished us with all aspects of information, we required in the purchasing process, regarding setting up bank accounts, obtaining a NIE number, currency exchange, conveyancing solicitor, everything! They answered all questions regarding the contract and knew everything we needed to know about community charges, taxes, utility bills etc.
Prior to completion, they advised us of all the documentation we would require to obtain, bank accounts, NIE numbers etc. and they arranged everything, so all we had to do, to obtain such things, was turn up and sign!
But even that part of the process, they guided us through and made simple!
On the day of completion, they picked us up at our hotel and drove us to the police station and came in with us, to get NIE numbers; to the bank and again came in with us, to obtain our bank accounts and bank cards; and then to the solicitors and notary to complete the sale.
They made what is a complex procedure, very simple and a very positive experience. I cannot emphasise enough what an excellent service Tenetife Property Shop provided to us, above and beyond just selling us an apartment in tenerife! Even down to helping with, ensuring we purchased contents insurance, when we asked , down to advising on ways to obtain the cheapest most effective, WIFi  in the apartment etc.
Tenerife Property Shop is a first class, top, professional set up, with a team who are completely knowledgeable on the conveyancing process and so happy to help and share their knowledge. I would highly recommend them and have no hesitation in using them again, should I need to in the future and pass their details on to any prospective purchasers! Thank you, so much, Damian and your team, especially Rosario and everyone in Tenerife Property Shop for providing us with a fantastic service and making the purchase of our property a very enjoyable, positive experience! Much appreciated and keep up the excellent service you provide!
Kind Regards,
Janet Dalton
Magistrates/ Tax Specialist